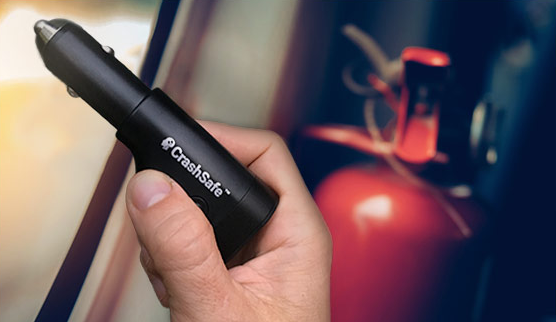 Emergencies Happen. Be Prepared With CrashSafe!
Protect your loved ones from the unexpected with this 6-in-1 survival tool!
In a crash, seatbelts can jam, doors can get stuck, and windows won't budge. What would you do?
Car safety experts have argued for years that drivers should carry window smashers and seat belt cutters that are easily accessible in a car wreck. The problem is, even if you are one of the few drivers that carry these safety devices, you probably have yours in your glovebox (or your trunk) — dangerously far out of reach during in an accident.
Safety devices are useless if you can't reach them in an emergency! Crash Safe solves that problem.
It's a phone charger that could save your life. Crash Safe is an 'all-in-one' car emergency tool designed with patented features to help drivers escape from road emergencies — packed with 6 powerful life-saving features.
CrashSafe plugs directly into one of your car's 12v power port outlets in your dashboard or center console — within arms reach in an emergency.