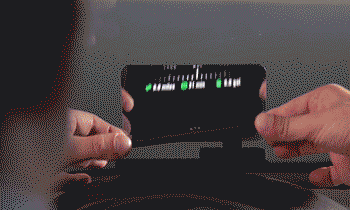 Navigate WITHOUT Taking Your Eyes Off The Road!
Amazing new technology is perfect for ANYONE who drives!
Easily navigate while keeping your eyes on the road!
Check your speed, maps, traffic, & more!
Works in ALL cars and trucks!
We couldn't have our viral product list end without including something that more and more drivers have been purchasing in the past month. This brilliant new device turns your smartphone into a heads up display for your car. It's called VIZR – and although it was only just released, it's taken the Internet by storm. All you have to do is take it out of the box and place it on your dash, place your smartphone on top of it and let it do all the navigating while you drive. It's a transparent display that works in any weather, day or night.
It also fits any smartphone no matter the size, and it's slip resistant. Best of all, there are tons of apps available that you can use to see traffic conditions, a speedometer, street maps & much more. You can use it in any car – it has an ultra-grip mat that leaves no messy residue on the dash. We can see this being one of the most purchased gifts for the upcoming Holidays, so check it out while it's still available.
VIZR delivers cutting-edge, heads-up display technology right in your car. Navigating while you drive just got way more convenient – and whole lot safer!
Easy To Setup & Use – Works right out of the box – NO wires, NO installation, NO hassle!
Works Day or Night, Rain or Shine – Clearly & safely see important navigation info in ANY condition.
Includes FREE iOS & Android App – Easily check GPS, traffic conditions, speedometer, street maps, & much more!